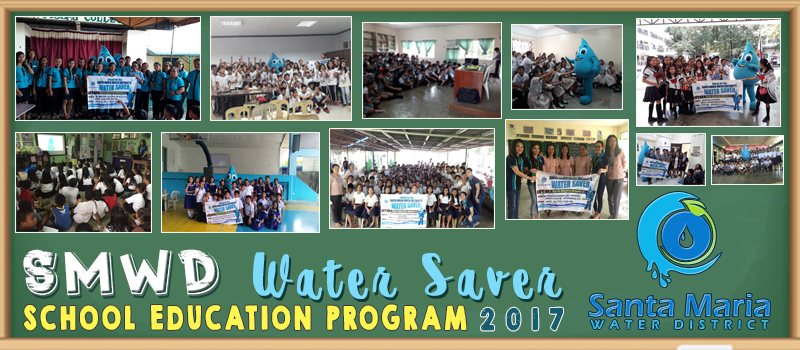 In line with Santa Maria Water District's mission to protect and preserve the environment for sustainable community development, Water Saver Educational Program (WSEP) was introduced.
The said program aims to educate our young water savers on the importance of wise water usage and to promote/increase their awareness about water conservation as a life-long behavior. It includes an audio-video presentation, Q&A portion (to check if students listened well to the AVP), intermission number starring SMWD's official mascot – PATAK, and distribution of freebies.
WSEP was initiated by the Customer Services Division on October 2015 and was conducted on twelve public schools within vicinity of Santa Maria. It caters at least 100 Grade VI pupils per school. For the year 2016, twenty-four public elementary schools were visited for the said orientation.
This year, 2017, SMWD decided to extend the campaign to private elementary schools in town which brought us a total of twenty-four schools (12 public schools and 12 private schools). Here is the list of schools that is lined- up for the school tour:
March 16, 2017

June 28, 2017

July 18, 2017

July 19, 2017

August 16, 2017

August 23, 2017

September 20, 2017

September 27, 2017
Also, in relation to the project under Gender and Development (GAD) which is Water, Sanitation and Hygiene (WASH), we started to give away hygiene kits to participating students to help them observe proper hygiene among themselves. Each set includes a soap, toothbrush and toothpaste.
In the long run, WSEP will not only benefit Santa Maria Water District but also its dear concessionaires as well as the future members of our community.