c

Expand All
C

Collapse All
The District reads your water meter once a month typically during the first week of each month.
Report it to the SMWD office upon discovery of the incident, secure a Barangay Report and submit it for meter replacement.
Among the reasons for abrupt increases in water billings are:
Increase in the number of users under the account
A leak after the water meter
Unmonitored water usage or consumption
Erroneous reading by the water meter reader
 Interchanged water meters during replacement or installation activities
Defective water meter
The District does disconnection for non-payment of accounts. If you have lost service due to this you need to visit the office to pay the past due balance and reconnection fee before your water service be restored. Keep in mind that payment for Reconnection fee made after 4: 00 pm, you will have to wait until the next day to get your service turned back on.
Duly accomplished application form
Senior citizen identification card or any Gov't. ID with photo, signature and Birthday
Billing Notice
The meter registration should be in the name of the Senior Citizen for a period of one (1) year and the application of discount must be renewed annually
Water bill payments may be made at Santa Maria Water District's office located at 003 M.
De Leon St., Poblacion Santa  Maria, Bulacan in front of Municipal Trial Court.
Payments can also be made at the following collecting agents such as: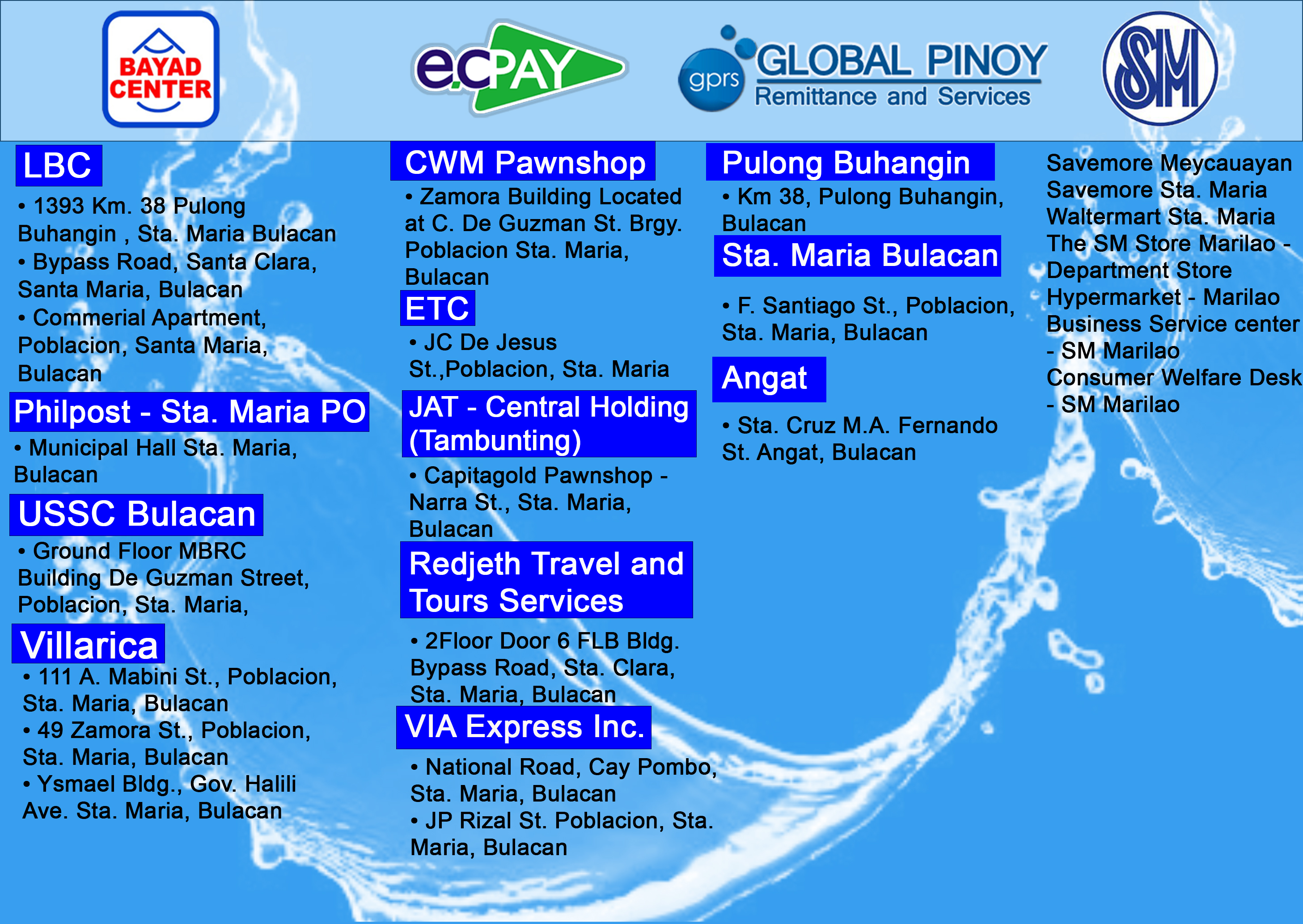 Proof of Identification
 Proof of Residency
 Proof of Lot Ownership
Affidavit of transfer of rights of the outgoing concessionaire
Payment of fee for supersedure of service amounting to P 50.00
Requirements:
Proof of Identification
Photocopy of any of the following government-issued identification cards bearing the photo & signature of the applicant and/or authorized representative:
a.) Driver's License duly issued by the Land Transportation Office (LTO)
b.) Professional ID duly issued by the Professional Regulations Commission (PRC)
c.) Voter's ID duly issued by the Commission on Elections (COMELEC)
d.) Passport duly issued by the Department of Foreign Affairs (DFA)
e.) Postal ID duly issued by the Philippine Postal Corporation (Phil Post)
f.) Unified Multi Purpose ID duly issued by the
f.1. Social Security Systems (SSS)
f.2. Government Service Insurance System (GSIS)
f.3. PAGIBIG
f.4. Philippine Health Insurance Corporation (PHIC)
g.) Tax identification ID duly issued by the Bureau of Internal Revenue (BIR)
h.) Senior Citizens ID duly issued by the Office of Senior Citizen Affairs (OSCA)
i.) Barangay ID duly issued by the Barangay Captain
j.) Radio License duly issued by the National Telecommunications Commission (NTC)
k.) Firearms License duly issued by the Firearms and Explosives Office (FEO)
2. Proof of Residency
Certificate of Residency of the applicant duly issued by the Barangay Captain
3. Proof of Lot Ownership
Basic Requirement:
Photocopy of any of the following documents:
Transfer Certificate of Title (TCT)
Notarized Deed of Absolute Sale
Notarized Contract to Sell
Notarized Deed of Donation
4. Payment of Initial Fees and Charges
Application fee
Service Charge
5. Optional Requirement
Excavation Permit (when required) duly issued by any of the following:
Barangay Hall for Barangay Road
Provincial Engineering Office (PEO) for Provincial Road
Department of Public Works and Highways (DPWH) for National Road