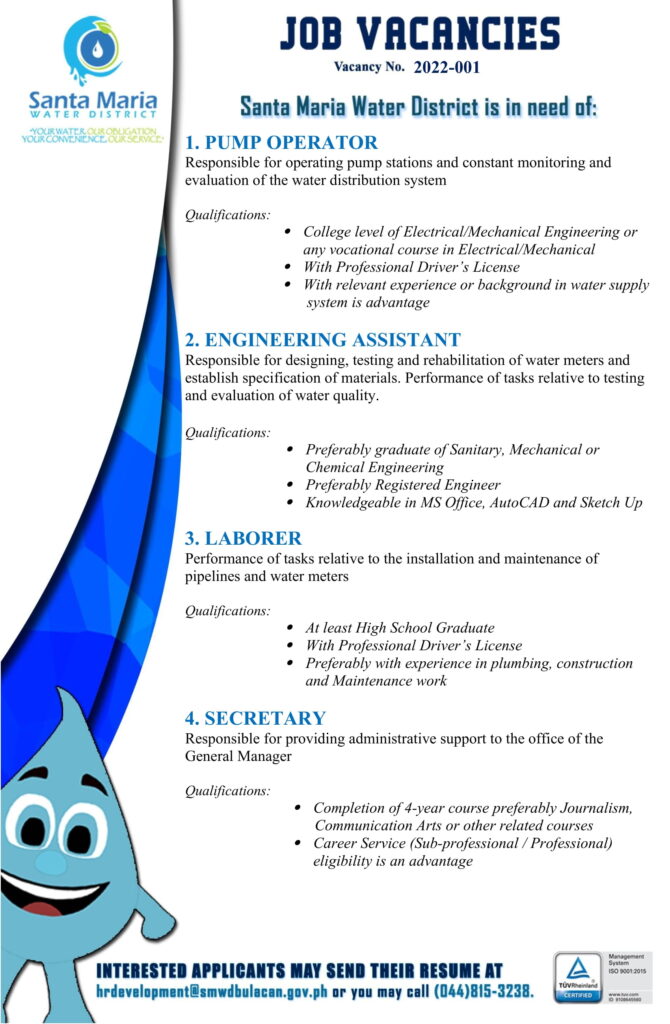 PUMP OPERATOR
Responsible for operating pump stations and constant monitoring and evaluation of the water distribution system
Qualifications:
College level of Electrical/Mechanical Engineering or any vocational course in Electrical/Mechanical
With Professional Driver's License
With relevant experience or background in water supply
 system is advantage
2. ENGINEERING ASSISTANT
Responsible for designing, testing and rehabilitation of water meters and establish specification of materials. Performance of tasks relative to testing and evaluation of water quality.
Qualifications:
Preferably graduate of Sanitary, Mechanical or Chemical Engineering 
Preferably Registered Engineer
Knowledgeable in MS Office, AutoCAD and Sketch Up
3. LABORER
Performance of tasks relative to the installation and maintenance of pipelines and water meters
Qualifications:
At least High School Graduate
With Professional Driver's License
Preferably with experience in plumbing, construction and Maintenance work
4. SECRETARY
Responsible for providing administrative support to the office of the General Manager
Qualifications:
Completion of 4-year course preferably Journalism,
Communication Arts or other related courses
Career Service (Sub-professional / Professional) eligibility is an advantage